The Rig Shop Ltd. is more than just a drilling rig manufacturer.  We can also provide:
Pipe handling solutions including a range of catwalks, pipetubs, and customized handling equipment designed for customer specific needs.
BOP handling systems and transport systems.
Mudtanks, mud systems, piping suitcases, pump units and buildings, mudlines, valving manifolds, flare tanks, open bottom (poor boy)degassers .
Out buildings such as combination units, watertank/toolhouse/doghouse units, generator/electrical buildings, boiler skids, etc.
Specialized support stands for fracking manifolds and associated piping.
Fuel tanks including TC44 designs, hydraulic oil tanks, maintenance fluid storage tanks.
Custom metal fabrication.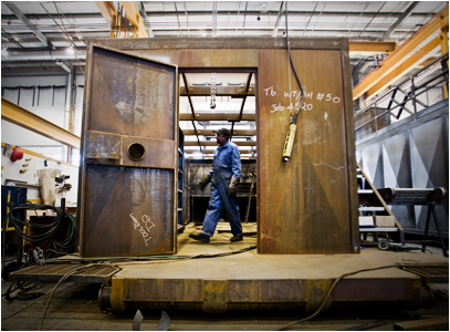 Our spacious, modern manufacturing facilities enable us to take on large scale projects while still maintaining optimal build sequences, a key part of ensuring timely delivery of customer product even during busy cycles.
The Rig Shop's main focus is ensuring that the customer is provided with exactly what they require while ensuring the highest possible level of quality and a timely delivery of the finished products. This requires that the customer be allowed to be involved at each step of the manufacturing process. In addition, the vast experience of our manufacturing team is used to help improve design and address inevitable production issues in a timely and proactive manner. Implementation of our API Q1 quality control system guaranties that our end product will be second to none.